Your Location: Herbal Medicine Sale à Product à Huan Shao Zhuang Yang Wan (Pian)
Huan Shao Zhuang Yang Wan/Pian (Zhuang Yang)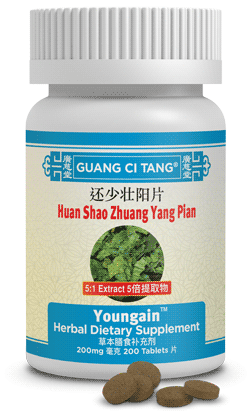 Huan Shao Zhuang Yang Wan (Pian) (YoungainTM)
Buy 10 get 2 Free
Sale price $11.99
• Introduction:
In Traditional Chinese Medicine (TCM), impotence is in most cases due to the deficiency of kidney Yang of the Yin-Yang principles. Yang is the mannish and positive principle of Yin-Yang whereas Yin is the womanish and negative principle. The kidney is the innate foundation of all organs with respect to the Yin-Yang principles, Qi essence etc. Youngain™ acts to tonify kidney Yang, replenish vital essence and thus may help maintain the vigor in sexual wellness.†
Youngain™ is composed of multiple Yang promoting herbs such as horny goat weed, psoralea fruit, and morinda root, and is carefully combined with other kidney tonics according to TCM principles. It is used for indications of male sexual dysfunction due to kidney Yang deficiency, which is usually associated with lumbago, lower back pain, soreness and cold feeling in the loins, knees, and limbs, pale complexion, lassitude, and loose stools. (see sexual wellness for more info)
†
• Ingredients:

A proprietary blend* of

Radix Morindae Officinalis
Herba Epimedii Grandiflori
Herba Cynomorii
Fructus Psoraleae Corylifoliae
Semen Cuscutae Chinensis
Cortex Eucommiae Ulmoidis
Radix Rehmanniae Preparata
Fructus Corni Officinalis
Rhizoma Dioscoreae Oppositae


(Ba Ji Tian)
(Yin Yang Huo)
(Suo Yang)
(Bu Gu Zhi)
(Tu Si Zi)
(Du Zhong)
(Shu Di Huang)
(Shan Zhu Yu)
(Shan Yao)


This formula list may appear differently from the label of the product you receive.
*Huan Shao Zhuang Yang Pian tablets are made with 100% natural herbs that are tested for authenticity, quality, and potency. A traditional water decoction is prepared with the herbs to reproduce the time-tested efficacy of the formula, and this water decoction is concentrated with our proprietary technology to form a potent extract that is made into easily absorbed tablets, which are remarkably effective, easy to use, and safe. The tablets are produced by Guang Ci Tang® in our state of the art cGMP-certified facility and imported in accordance with U.S. FDA guidelines. When you choose Guang Ci Tang® products, you are taking advantage of a wonderful fusion of science and tradition that incorporates the highest standards in the field of Chinese medicine today.
• Dosage:
One top Chinese herbs brands:
Guang Ci Tang® Huan Shao Zhuang Yang Pian (Youngain™) 40 grams in 200 mg 200 tablets @ 5:1 strength.
The standard dosage for Youngain™ is 6 tablets or pills taken 2 to 3 times daily with or before meals. One bottle lasts users 11 to 17 days.
• Use Discretion:


• Side Effects:
Youngain™ has been safely used with few adverse effects.
• Cautious Notes:
1. As the formula makes you feel hot, it is not suitable for use if you have dry mouth, thirst, sweat, or dry stool.
2. Discontinue use if any adverse symptom occurs.
3. Consult your herbalist or physician before use if you are taking other medicines.
4. Recommended for man only.
5. Keep out of reach of children.


†These statements have not been evaluated by the Food and Drug Administration. This product is not intended to diagnose, treat, cure or prevent any disease. Contents in www.herbalmedicine.us.com is for information purpose only and are written to our best knowledge and expertise for the scientific accuracy. They are not to replace the advice of your physicians. The research cited in our contents are published in scientific journals and have not subjected to the FDA evaluation. We reserve the copyright to protect our contents. Any reproduction without in its entirety and without explicit credits to herbalmedicine.us.com is prohibited.