Your Location: Herbal Medicine Sale à Product à Tian Wang Bu Xin Wan (Pian)
Tian Wang Bu Xin Wan (Pian)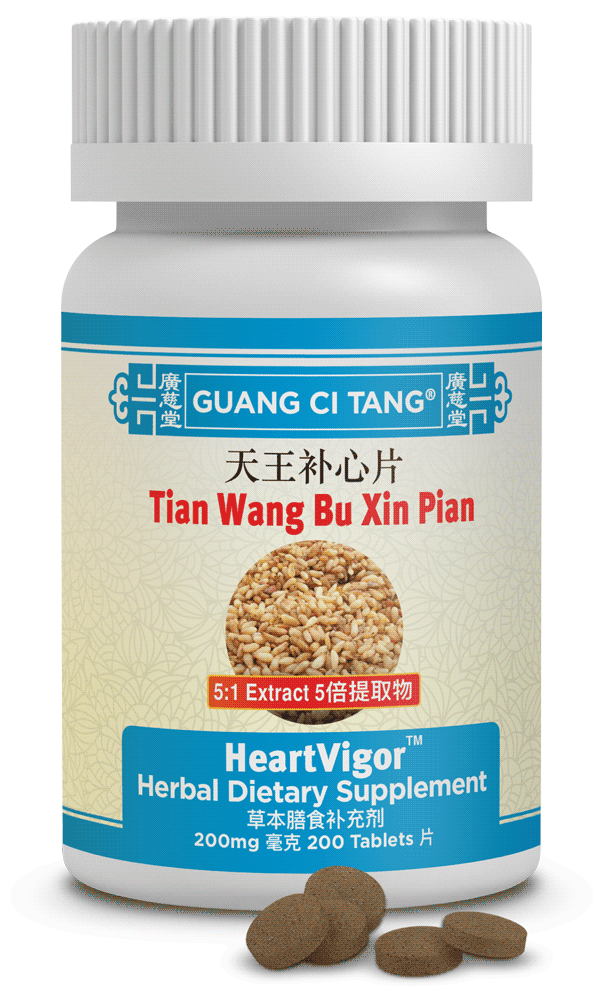 Tian Wang Bu Xin Wan (Pian)
Guang Ci Tang Brand*
Buy 5 get 1 Free/Buy 10 get 2 Free
Sale price $11.99
Tian Wang Bu Xin Wan (Pian)
Tian Wang Bu Xin Wan (Pian)
Plum Flower Brand
Buy 5 get 1 Free/Buy 10 get 2 Free
Sale price $18.30
Tian Wang Bu Xin Dan
Tian Wang Bu Xin Dan
Min Shan Brand*
Buy 10 get 2 Free
Sale price $11.75
EverSpring - Tian Wang Bu Xin Wan
EverSpring - Tian Wang Bu Xin Wan
Buy 5 get 1 Free/Buy 10 get 2 Free
Sale price $23.15
Millennia - Tian Wang Bu Xin Wan
Tian Wang Bu Xin Wan
Buy 5 get 1 Free/Buy 10 get 2 Free
Sale price $7.99
Leckon Classic - Tian Wang Bu Xin Wan
Tian Wang Bu Xin Wan
Buy 5 get 1 Free/Buy 10 get 2 Free
Sale price $24.00
Leckon Gold - Tian Wang Bu Xin Wan (Pian)
Tian Wang Bu Xin Wan (Pian)
Buy 5 get 1 Free/Buy 10 get 2 Free
Sale price $25.00

• Introduction:
Tian Wang Bu Xin Wan (Tian Wang Bu Xin Pian, Tian Wang Bu Xin Dan, or Emperor's Teapills, 天王补心丸) is a famous herbal formula in traditional Chinese medicine for replenishing the blood and Yin to strengthen heart functions. Today, the herbal remedy is commonly used by Chinese doctors for insomnia associated with palpitation, amnesia, and anxiety.
• Ingredients:

A proprietary blend* of

Radix Salviae Miltiorrhizae
Rhizoma Acori Tatarinowii
Radix Rehmanniae Glutinosae
Radix Angelica Sinensis
Fructus Schisandrae Chinensis
Tuber Ophiopogonis Japonici
Semen Ziziphi Spinosae
Semen Biotae Orientalis (Semen Platycladi)
Radix Codonopsis Pilosulae
Sclerotium Poriae Cocos
Radix Scrophulariae Ningpoensis
Radix Polygalae Tenuifoliae
Radix Platycodi Grandiflori
Radix Glycyrrhizae Uralensis
Caulis Polygoni Multiflori
Asparagus Cochinchinensis Tuber

(Dang Shen)
(Shi Chang Pu)
(Di Huang)
(Dang Gui)
(Wu Wei Zi)
(Mai Men Dong)
(Suan Zao Ren)
(Bo Zi Ren)
(Dang Shen)
(Fu Ling)
(Xuan Shen)
(Yuan Zhi)
(Jie Geng)
(Gan Cao)
(Shou Wu Teng)
(Tian Men Dong)

GCT
+
+
+
+
+
+
+
+
+
+
+
+
+
+
+

PF
+

+
+
+
+
+
+
+
+
+
+
+


+

MS
+

+
+
+
+
+
+
+
+
+
+
+


+

Abbreviations: GCT, Guang Ci Tang brand; PF, Plum Flower brand; MS, Min Shan brand.

This formula list may appear differently from the label of the product you receive.
*Tian Wang Bu Xin Wan (Pian) is made of 100% pure authentic Chinese herbs of highest qualities. Traditional preparation procedures are combined with modern pharmaceutical processes to extract the active ingredients from the herbs and to further concentrate them into pills or tablets. It is produced in the certified GMP facilities of Shanghai TongHanChun Herbs Factory (Guang Ci Tang) or Lanzhou Foci Pharmaceutical Co. Ltd. (Min Shan and Plum Flower) and is imported to USA in accordance with the FDA guidelines.

It contains no pharmaceuticals, no artificial colors, and no sugar. Heavy metals are within or well beyond the standards set by US Pharmacopoeia. Additionally, Plum Flower only uses its own brand unsulfured herbs for production.
• Dosage:
Three top Chinese herbs brands:
Guang Ci Tang: 40 grams in 200 mg 200 tablets or 200 mg 200 pills per bottle,
Plum Flower: 36 grams in 180 mg 200 pills per bottle,
Min Shan: 33 grams in 160 mg 200 pills per bottle.
For Guang Ci Tang, 5 to 7 tablets or pills 3 times daily.
For Plum Flower, 8 pills 3 times daily,
For Min Shan, 8 pills 3 times daily.
• Use Discretion:
Tian Wang Bu Xin Wan is similar to Gui Pi Wan and Te Xiao Zao Ren An Mian Wan in use for insomnia and palpitation. Gui Pi Wan is more suitable when tiredness, pale face, short of breath, or poor appetite also occur. Te Xiao Zao Ren An Mian Wan is more suitable when night sweats or dizziness also occur. Tian Wang Bu Xin Wan is more suitable when dreaminess, emission, constipation, oral ulcer occur.
• Side Effects:
Tian Wang Bu Xin Wan (Pian) has been safely used with few adverse effects when used as directed. One customer reported that it caused him diarrhea.
• Cautious Notes:
1. Not suitable for use if you have a fever.
2. Use it under the direction of a herbalist if you have diabetes.
3. Consult your herbalist or physician before use if you are taking other medicines.
4. Better to use after meal.
5. If any adverse symptom occurs, discontinue use.
6. Keep out of reach of children.


†These statements have not been evaluated by the Food and Drug Administration. This product is not intended to diagnose, treat, cure or prevent any disease. Contents in www.herbalmedicine.us.com is for information purpose only and are written to our best knowledge and expertise for the scientific accuracy. They are not to replace the advice of your physicians. The research cited in our contents are published in scientific journals and have not subjected to the FDA evaluation. We reserve the copyright to protect our contents. Any reproduction without in its entirety and without explicit credits to herbalmedicine.us.com is prohibited.